Unusual Graces
Yesterday I had the unusual experience of attending only one service on Sunday! When you plant a church, have a husband in ministry, have 4 children, and have told God, "Where ever there is a need, that's my calling," you will, dear friends, find yourself in Children's Ministry (smile!). Today I will not camp on my journey into teaching kids, but I will tell you I continue to be pleasantly overwhelmed with how God is molding me within and through such a wonderful ministry!
Most Sundays will find me teaching for one of the service hours and then attending the "Big Kids Church" the other hour. (I'm so thankful for the opportunity to attend a service even when I serve, for many reasons; one of which being it's when I observe my hunky hubby being a lead worshipper.) Yesterday, though, was a rare week when I wasn't teaching. There was a Church Breakfast Potluck that morning; so, I whipped up some little Egg Muffins I found here. Then, totally inspired by wearing my apron around my expanding tummy (it still fits, by the way, which may mean I could be accessorizing my outfits with my vintage apron pretty soon just to feel cute in these last "expanding" days!), I also whipped up this delicious meal for lunch, also found on Pinterest. (Pinterest has become my new favorite way to collect recipes as it does not require any more space in my already tight kitchen!)
The kiddos really had it together yesterday, too, which means the morning wasn't void of correction and discipleship but it seemed a bit more "in step." (Smile!!) We headed off to the church building, all dressed, all packed, and all on time! The kids all helped carry something into the building which means Momma got to walk in unfrazzled and with an empty hand for "just in case." I wasn't rushing around trying to find this or that, egg muffins can help in that area! I actually had time to stand and talk with some dear friends that most Sunday's I find myself quickly walking by, on my way to or from somewhere.
After a breakfast of chocolate chip cookies and chocolate donuts – our church rocks(!) – my kiddos were led next door, to the Children's Building, where I felt their energies would be best appreciated (hehe). I returned to a worship service already in motion, looked around the tables for my bag of "stuff" (Bible, notebook, kids' activities, etc.) which I had asked my son to carry in for me, found it, and began looking for a good place to sit…just me…without three or four children…which meant I would not need a whole table or a whole row. Hmmmm…I was stumped there for a minute.
Then I turned around to see my friend Donna sitting in her usual spot but without her usual sitting companion (a.k.a. her husband), and there were two seat beside her (one for me and one for the hunky hubby). Eureka! Mr. Michael was out of town finishing up some wood working projects for a friend (still waiting on my own wood working creations from this very talented man); so, there sat Ms. Donna by herself. I took this as a gift for me because Mr. Michael does not give up his space next to his wife – ever! Down I plopped beside Donna and we worshipped side by side! (Another grace can be stated here: she sat very nicely beside this lover of worship, who get's loud with her worship, even though she has no musical ability like that amazing Guitar Playing Man of hers!)
During communion, which I actually walked to get myself instead of a little one getting for me (I actually love when they get it for me, but again, we're talking unusual graces here), I was overcome with just the simple, sweetness of it all. Sitting beside a sweet friend, holding the simple emblems made sweet only by the bitter road Christ took on our behalf, and feeling, as I prayed, the spirit of that sweet friend sitting by me. She is a mother of two grown kiddos who live back in Illinois, and she is learning how to mother at this season in her life – in their lives. I have seen her eyes light up and also shadow during this time of transition. Yesterday, as I sat beside my sister in Christ, sharing in the testimony of what Christ has done for us both, I was led to lift her into our Father's arms. Grace! Sweet Amazing Grace that we can do that for one another: to come boldly into the Throne Room of Grace of our Father the King and say straight up, "Daddy, my sister..!" And then, because He cares more for us than we will ever realize on this earth, He responds with grace, love, and action! We were talking about the planting of churches yesterday and discipleship (two of my passions, I've come to realize); so, sitting beside someone who became my sister through the very church plant we were worshipping together in was such sweet grace! Then, after service, we shared some words – words on the serious stuff and words that led to laughter. (As an extra, unusual grace, for both myself and the lead worshipping hubby, Daddy was able to pick up the kiddos from their classes! Selah…)
The rest of the day was pretty great as well. We kept it kinda low-key which I find is the best key to be at after a full Sunday morning. Many graces were woven throughout the afternoon and evening, including that yummy lunch and A NAP – glory be! I wish I had the vision to capture them all, but I am thankful for ones God opened my eyes to see!
It's a beautiful Spring morning here in Colorado; I'm hoping to get a walk in before winter returns for a visit tonight and tomorrow. Hope you all enjoy yours as well!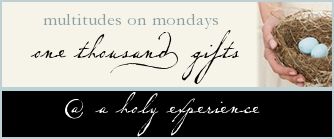 (Grateful for the Grace – unusual or not!  #3042-3056: late Saturday night with Nathan, early Sunday morning with both my Loves, making breakfast and lunch, sitting with Donna, good Sunday conversations, lunch with dessert, a nap, that husband working overtime on a Sunday to fix things around the house, possibilities, early morning with the birds singing crazy praise outside my window, breakfast with Nathan before he leaves, a walk on a Spring morning, robins and bunnies, plans on the calendar, holding Hannah through a fit  – learning to show the grace I've been shown)