It was just one of those Sundays…
It was just one of those Sundays when living was just sweet. Not without a little bit of hurry. Not without disciplining children or needing discipline myself. Not without pregnancy discomfort or without afternoon clouds. Not without needing to pray for a few who really needed prayer or without praising in the midst of kids needing correcting. No, not without the "life" that makes mine up.
It was just one of those Sundays when thanksgiving just couldn't stay contained and gratitude literally poured from my heart because it was just overflowing! Not because there were great mountains climbed or outstanding debts paid. Not because my house was spotless or my week was already organized. Not because my bathroom wasn't under construction or the laundry was folded. Not because I knew everyone in my family was happy, healthy, and wealthy. No, not because I live in an oasis.
It was just one of those Sundays when it all seemed to come together. Irony is: the projector didn't work for Kids' Church worship, my kids needed constant correction and training during "Big Peoples'" Church worship, we were probably too loud and a bit of a distraction, and one or two still had to squirm their way to the bathroom in the middle of the service. (Did I mention we tend to sit up front; ahem!)
It was just one of those Sundays when the timing just seemed right. But, the clouds rolled in before I could get my walk in, I realized I really wanted to get a few things in – so a nap may not happen, and patience would still be required to finish a few projects on hand.
It was just one of those Sundays…sweet, grateful, fitted, and on time. Not a worldly sweet, nothing of great visibility to be thankful for, kind of broken to the physical eye, and full of pauses I may not have put there. It was…a gift. Every bitterSWEET, hardTHANKS, brokenPERFECTION, and untimely TIMED moment was His gift, and the greatest part was that on Sunday, I took notice! Hands and mouth weren't the only things open in worship – the EYES! They were open wide too! And the "Light" that poured in was so great that the darkness had no ground to stand on. Just like the very first Easter, darkness had to flee!
45 The one who looks at me is seeing the one who sent me. 46 I have come into the world as a light, so that no one who believes in me should stay in darkness. John 12

4 In him was life, and that life was the light of all mankind. 5 The light shines in the darkness, and the darkness has not overcome it. John 1

34 Your eye is the lamp of your body. When your eyes are healthy, your whole body also is full of light. But when they are unhealthy, your body also is full of darkness. 35 See to it, then, that the light within you is not darkness. 36 Therefore, if your whole body is full of light, and no part of it dark, it will be just as full of light as when a lamp shines its light on you. Luke 11

33 No one lights a lamp and puts it in a place where it will be hidden, or under a bowl. Instead they put it on its stand, so that those who come in may see the light. Luke 11
It was just one of those Sundays that ushered me right into one of those Mondays…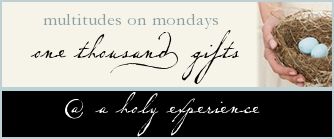 #2990-3025

28 weeks, budding trees everywhere, giving Little Miss a bath, Hannah asking if she can give me a kiss, four children in the backyard with their swim suits on, a great deal (more than we asked or imagined), a time to sit, a good day, last day for Timothy to be 7, Christopher pulled a tooth, Timothy is 8, kids rolling down the hill, messages shared with an Aunt, crazy hair, Dad recovering, praying for my Little Sister, praying for a friend…or two…, teaching Kids' Church, a new kind of Sunday with the kids – teaching…training, Christopher lifting his hands in worship, having lunch around the table, everyone liking lunch, disciplining…again…a heart hurting for the one who needed it, joy at seeing his smile return, carrot sticks, cleaning the kitchen with my boys after Sunday lunch, Hannah playing with her brothers' car in the yard, sun-breeze-the back door open-the heater off kinda day, Sunday dishes washed, plants watered, a basket-full of oranges, afternoon decaf perking, candle burning, simplicity of today planting excitement for tomorrow, little girl with a dirty face finding "letters" in her pretzels, Aaron taping his Iron Man mask…again:)
*All scripture taken from the NIV