We sent cards out this year (miracle!) that stated Christmas greetings, and along the bottom right we also gave an invitation:
We pray you will join us as we celebrate the coming of our Savior as we prepare for 2012 – the year of Today is the Day!
Why this?  Well, the story isn't simple or short, but I shall try to make it both.
About a year and half ago, I began doing the most elementary thing – I started counting.  In order to do so, I had to do the most basic thing – I started seeing.  To keep my eyes open in the midst of the good…and then the bad, hard, messy (whatever the moment), I had to do the most mysterious thing – I started eucharisteo (giving thanks).  And everything has changed.
No longer can I just exist in a day or let the moment flee or let life pass.  No longer can I number my life by 24 hours or 30 days or 12 months or the next New Year.  Somewhere along the way I began to dance in a different time…
8 But you must not forget this one thing, dear friends: A day is like a thousand years to the Lord, and a thousand years is like a day. 2 Peter 3 NLT

11 Yet God has made everything beautiful for its own time. He has planted eternity in the human heart, but even so, people cannot see the whole scope of God's work from beginning to end. Ecclesiastes 3 NLT
So every "yes" (thankfulness) I say to Him and every "no" (ungratefulness) resonate into eternity.  My life is not temporal; so, why would I expect any choice I make or don't make to be insignificant to Him?  All of eternity feels the ripple my life makes…TODAY.  The question is really this:
Will my life cause someone to stand in awe of the beauty and glory of the One and Only God…Creator, Lord, Savior?  Will they be drawn to the Light…the Truth…the Life by watching mine?  Will the effects of my days be easily overlooked? Will they give someone a reason to move on to something seemingly better?  Will my life be a snuffed out candle under a bowl or a city on a hill?  
Everyday is only this – Today.  Today is the only day – always.
I listen as my 2 year old "Grace" Joy sings…Today is the day, You have made, I will rejoice and be glad in it…And I won't worry about tomorrow, I'm trusting what You say…TODAY IS THE DAY!  She knows, as her face lights up during the tenth time around the chorus- it's just…always…TODAY.
So, this is the Year of Today…
A year when I will wake up on Monday and live all day in Monday.  I will embrace each child as they come down the stairs way too early in the morning.  I will pet and play with the dogs more and laugh when they get all excited instead of…ahem…well…yell.  I will thank God every time I can pack a lunch box or a back pack or a diaper bag.  I will notice the way light pours in through the window and how the evening sky looks like a painting from His very hand.  I will wash, dry, fold, and put away every piece of laundry in peace and contentment; He has given me these tasks.  They have come straight from the King of Glory; they are royal assignments!  I will get giddy when I can spend less than I've budgeted for, and I will get humbled and beneath His wings when the manna is no more for the day.  I will learn to let Him be enough.  I will try out the theory of "more or less" – more stuff or less slavery…more God or less peace?  My feet will find their way to living on earth…for all eternity.  I will live day after day not for the next stage of childhood or the empty-nest years or for retirement.  I will live today like it's for all eternity because, really, it is.  Though we are but dust and a vapor, we are His portion.  He bids us come near, and I will no longer stay away from my Father.  He has called my name, He stands waiting with smile and arms open wide, and I will run.
I will run into those arms when the sun shines and the health is good and the days are sweet.  I will run into those arms when the storm is torrential and the body is weak and the days are bitter.  I will give Him me for all of these days because He has first.  He knew I'd want to lift my head smiling and do cartwheels the day I first came to Him.  He knew I'd need Him to parent me when mine didn't.  He knew I'd want to praise when I shared His love with those in the Ukraine.  He knew I'd want to sob and thrash about when I was told my son had autism.  He knew I'd want to rejoice when I found out the lump was nothing.  He knew I'd need Him to hold me up and keep me sane when the Enemy would torture me day and night for months.  You see, I give thanks in everything, not because everything seems worthy of it, but because He is Worthy.  He is with me on the wings of the dawn and in the depths of darkness.  He is the One I'm thankful for when I notice a sunrise and a sunset or a diagnosis and a debt.  So, I give thanks for it all, Today, because all day…every day…for all eternity…He Is!
Will you join in on the Year of Today?  He has made it.  Will you live in it?  Will you open your eyes and hands and mouth and Eucharisteo?  Could you count?  Could you see your steps and decisions and actions in light of eternity?  Could you believe that Today is for all eternity?  Will you take grace and mercy and try again…today?  I pray I will; I pray you will. Could we pray for each other?
________________________
From some of my Today's…1549-1558
him singing a love song to me this morning
kissing him over breakfast
Momma's generosity (she continues to teach me)
Nathan choosing to lead us wisely
all the boys taking turns to read our daily devotion
Timothy's high acclaims over a simple bowl of Honey-Nut Cheerios
cuddle time (and kisses) with Aaron
watching steam lift from my coffee cup
eating collard greens and black-eyed peas with "family" on New Years' Day
sitting with Aaron in the early morning hours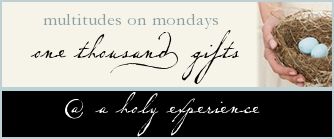 __________________________________
**Much of what I have learned and put into practice this past year and a half has come from what God worked out through Ann in her book One Thousand Gifts: A Dare to Live Fully Right Where You Are.  Needless to say, I highly recommend you get it, along with a journal and pen…never stop counting and accounting for His love!