At the end of the day…
Monday, September 19, 2011
At the end of the day, I sit and think back.  We woke early.  I read His Words.  I thought about His Words.  I packed lunches and snacks.  I baked, pre-made dinner, and did school with the children.  I checked emails.  I took the kids to the park and to a friend's house for a play-date.  I came home to my man and the coffee he brought me.  We ate, cleaned up, did homework.  We watched a movie as a family.  Had one of those baked treats, brushed teeth, read books, said prayers, and went to bed.  I finished nightly chores, organized a trip, and continued to sip that gift of coffee.  Seems a very productive day…it was.  Seems a good day…it was.  But I wonder, was it thankful?  I know I started out with thanks…I took a moment to notice and thank Him as we did our devotions outside this morning.  Was that all, though?  I did talk to a few friends about how God is faithful and how He will provide for our current flooding situation.  I have said it over and over these past few days.  Yes, it is because I believe it, and sometimes saying it aloud reminds me I do believe it!
I really long to live as His Daughters should!  To not fret or be anxious.  To be slow to anger and quick to forgive.  To extend compassion instead of judgment.  To pray expecting instead of vainly.  To really be salt and light!  To be "the difference".  At the end of a day, I wonder if I'm any closer to being this "Dream Girl".  She is my dream…the one I want to be.
Now I lay me down to sleep

I pray the Lord my soul to keep…

I pray to be like your Son

I pray to be one

Who lives the life that will turn the eye

Turn the heart, turn the mind

To the One Who creates

Who changes, Who re-makes.

So, now I lay me down to dream

Of the Her who lives redeemed

I pray the Lord, to make Her in my mind

The Her Who my waking eyes find.

Amen.
_________________________________________
It has been a few days of some hard euchariteo's, but when the hard comes, and thanks is its song, it becomes transfigured into beauty.  On an evening at church with the preschoolers, I listened as my Timothy thanked God for this: "Dear God, thank you for the waffles we had today, and thank you for the squares in the waffles…"  I smiled so big!  For squares in the waffles!  We really do have to become like little children…they get eucharisteo!  We've gotta get it too!  So, thank you Timothy, for teaching Momma so much…for helping me see the squares in the waffles!
#1196-1210
squares in the waffles
cries in the shower
bills piling up
bath-tubs clogging
little boys with autism
(…the hard…the song of thanks…the beauty)
a sister fighting for us on her knees
friends who lift me up
Mrs. Ginger
waking up and being held by him – for almost 9 years!
Hannah's smile
a good walk and a good prayer
coming home to a clean house
kids with muddy toes
football, fellowship, and pizza with friends
seeing old (not age) friends – a surge of joy through my very heart!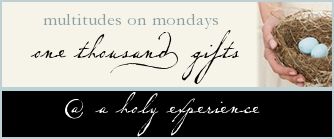 (These thoughts are a bit scattered, but I chose to put them out there for Him…for me.  He and I…"oh how marvelous, oh how wonderful…" that Me and He can be we!  I pray you all find your place in His arms.)